Medicare rebate for our treatments
Rebate of $56 per visit for a total of 5 visits every calendar year.
✔ Save more than $300 per year for treatment!
✔ Chiropractic & Osteopath treatment is claimable.
✔ Have a GP complete a referral form.
✔ Bring a completed medicare from to your appointment
✔ Receive an instant medicare refund into your bank account using your eftpos / debit card.
✔ Minimal out pocket cost for 5 appointment visits, great for getting the body back on track.
Download EPC Referral Form
Claiming information for patients
- Patients are eligible for a maximum of 5 EPC appointment visits each calendar year, hence you will need to wait until January the following year to claim a further 5 visits in the following year.

- You only require a new GP referral every 2 years.

- If you don't use your 5 visits for the year; you forfeit them.

- Make sure your GP applies the full 5 visits otherwise you may only be eligible for less, depending on what your GP submits to Medicare.

- If you have seen any other Health Practitioners, other than your GP or medical specialist, then you may have already used part or all of your EPC entitlement for that year.

- Be sure to confirm how many visits you have used and how many you have left for the year. Your GP or ChiroCure Clinic can check this for you.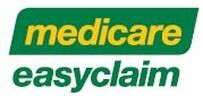 Frequently Asked Questions
Who is eligible for a rebate?
To be eligible for Medicare rebates you will need to have one of the following:
Pain present for at least 6 months


Be placed on a Chronic Disease Management Plan (formally known as an EPC program / Rebate) with a referral from a GP under medicare (Forms 721 & 723)


Have a health condition or issue that qualifies you for treatment under medicare, ie diabetes, asthma, degeneration, scoliosis, spondylolisthesis, fibromyalgia, ect, or hold a current healthcare or pensioner card.


COVID related symptoms or condition.
* Some GP's may require you to recall the names of two health professionals who's care you have been under in the past, this can include a psychologist, physiotherapist, massage therapist, podiatrist, ect. It may be also be helpful to take your X-rays and report to your GP appointment.
Does Medicare cover the cost of x-ray imaging?
X-ray imaging requested by one of our Chiropractors is Bulk Billed. Referrals are valid at all radiology imaging centres. This means that the actual images cost you nothing.

An EPC referral does not however, cover the cost of an Xray report of findings appointment at ChiroCure Clinic thereafter. There is slightly increased fee for the long follow up appointment, to enable our practitioners to provide you with a detailed findings report and management will.
Can I use private health insurance in conjunction with medicare rebates?
You need to decide if you are going to use your Medicare rebate or your private health insurance at the end of your appointment. Unfortunately you cannot claim both refunds for the same consultation.

Once you have claimed all of your 5 Medicare rebates you can continue to claim through your private health insurance for further consultations.
What is the out of pocket cost?
ChiroCure Clinic may charger a small out of pocket fee for each appointment visit, depending on the length.

These charges may vary depending on the type of treatment, length and referral bulk billing status of your referral.