We accept all private health insurance funds!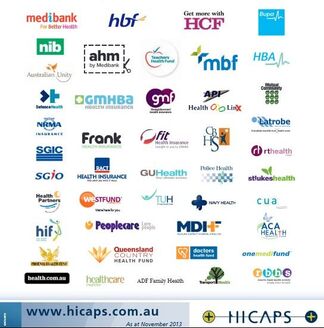 ChiroCure Clinic practitioners are registered with the either the Australian Heath Practitioner Regulation Agency (AHPRA) or equivalent Accredited Association in their treatment practice. Therefore all of our therapists are recognised and claimable providers with all private health insurance funds in Australia.

All services including Chiropractic, Osteopathy, Remedial Massage Therapy, Myotherapy, Dry Needling, Pregnancy care and Sports therapy are available for claiming using our 'HICAPS' facility for easy same day refunds.

Our HICAPS facility is an electronic private health claiming system that means you do not have to pay the full consultation fee. You will only pay the gap fee out of pocket on the day of treatment.

Book an Appointment
Frequently Asked Questions
Do I need a referral?
No, you do not need a referral from your GP to see a Chiropractor or any of our other practitioners. You can simply book an appointment at ChiroCure Clinic and claim your private health insurance rebate.

If you have an extras cover health insurance policy with a private health insurer that includes Chiropractic & Remedial Massage you will only need to pay the gap fee, if there is any, or you can pay for the visit out of pocket and then claim back online after the visit using the invoice we email to you.

If you do not have private health insurance you can pay the fee at the end of your consultation.
How much of the cost is covered?
Every health fund has different cover, depending on your private health policy cover. Most funds offer anywhere between 35-90% coverage on every treatment appointment.

It is recommended that you take a look at your extra's cover with your health insurance and this will tell you the limit and cover amount you have. And if you have recently joined private health make sure you check to see if you have a waiting time period before you can claim.